Website Design
Not just Web sites that work, Web sites that work for you
Does Your Web Site:
Have a professional appearance?
Accurately convey your message to the public?
Generate consumer / customer confidence?
Encourage repeat visits?
Encourage interaction?
Create value for your business? (sales, sales leads, customer contacts and similar)
In order to accomplish these goals, it is essential that your Web design team gain an intimate understanding of the way your business operates. Too many companies just don't listen. DataComm's approach to Web site design focuses on collaboration and interaction with our customers. Together, we can identify successful marketing and advertising initiatives currently in place while gaining an understanding of your business needs and objectives for the future. A thorough review of this critical information provides the foundation for building on what works. At the same time, opportunities for improvements and strategies for growth can be developed. DataComm's customer-centric approach insures your active role in the creation of an effective tool for your business.
Contact us if you would like some examples of our website design.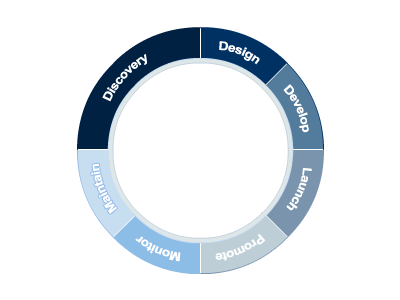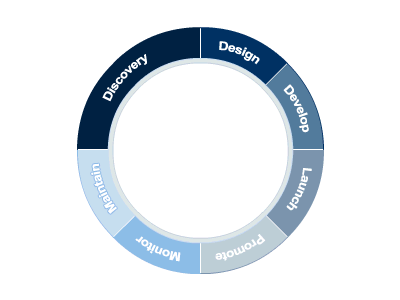 Our Design Process
Discovery
This is when we will get a detailed a picture of the clients requirements.
Among the things we establish here are:
What will be included in the site
What functionality is required
How copy and images will be provided and who will create them
The goals of the project
How maintenance will be handled
What budgetary constraints apply to not just design but to issues like post build promotion of the site
Whether or to what extent we will handle post build issues
How the site will be hosted
How additions during the build phase will be handled
Review all current marketing and advertising initiatives with client representatives
Analyze business processes, identify potential for Web implementation
Determine Web site goals and long-term objectives
Design
This step involves working closely with the client to come up with a satisfactory design and planning how the content will be presented. In all sites one of the most important parts of this stage is designing a site architecture and navigation system. For the client this phase involves gathering content and getting it into the agreed format for supply to you.
Steps in this process:
Creation of the prototype visual design and navigation
Revision and finalization of design and navigation
Develop
At this point we build an actual site and, with the client, continuously test and refine it as we go. This stage will include adding all the functionality required, creating or working with images and copy, ensuring that code is correct, adding meta tags, alt tags and so on and generally honing the site to get it into shape for public viewing. If usability testing is undertaken, and some level of user testing really does benefit every site, this is the time to start as obvious problems and deficiencies can be worked out before the site goes live.
Steps in this process:
Coding of approved design and navigation for Web implementation
Implementation of any 3rd party elements
Client review and testing of all functional elements
Launch
This stage involves the publication of the site so that it can be viewed by the public, dealing with any teething problems that arise, submission to search engines and directories and ongoing usability testing.
Steps in this process:
Launch of the completed site online
Promote
Initiate coordinated campaigns with client representatives to drive traffic to the Web site.
Monitor
Review tracking statistics, user tendencies, customer feedback
Analyze overall effectiveness of Web presence
Maintain
Some allowance may have been made for this in the original quote, but in any case the details of how maintenance will be undertaken, who is responsible for it and how it will be paid for needs to be defined clearly as part of the over all project definition. If a content management system is used or if the client will be updating using FrontPage then a training and/or support element may be included here also.
Steps in this process:
Employ services for the maintenance of Web site content and promotional campaigns